The first challenge of building a multivendor marketplace online is the complexity of building it. That is why, when starting an online marketplace, one of the first things that people do is look out for the multi-vendor plugins.
Since WordPress is an open-source content management system, which requires no coding to build a website, it is one of the most widely used tools to develop websites.
There are quite a few WordPress multi-vendor plugins in the market. But only a few of them offer the flexibility and features that are required for a robust online marketplace.
Whether you have a startup or an established business, building a multi-vendor marketplace can either be too expensive, too technical or it time-consuming. This is why most people look out for a multi-vendor marketplace that is readily available, easy to set up, and the one that has all the features that you can build manually in a custom-developed website.
This is where Dokan comes in. Dokan multi vendor marketplace plugin allows you to build a fully-functional eCommerce website without any coding. It has all the features for you to create a site that can compete with the likes of Amazon, eBay or Etsy. And we are not exaggerating!
---
Top Features to Look Out for in a Multivendor Marketplace Plugin 
These are some basic features you should look out for when choosing a multi-vendor marketplace.
User Friendliness: A good multi-vendor online marketplace must be easy to use and have a friendly user interface.
Coupon Management: Another quality of a good multi-vendor online marketplace is it must have a coupon management system that allows the administrator and vendors to create coupons.
Vendors Review: It should provide users with the opportunity to rate the vendors and also the products. With vendor review, users can rate the vendors in addition to the products.
Frontend vendor Dashboard: It should have a robust frontend vendors dashboard. Where each vendor has a personalised page to make changes, manage stock, add products and carry out some administrative task on their store.
Easy Withdrawals: It should have provisions for easy withdrawals for vendors.
Sellers Verification: Sellers verification is another important feature for a multi-vendor website.
Insights, Analytics and Reports: A good multi-vendor marketplace should provide comprehensive sales reports, insights, statements and an overall report on activities within the marketplace.
Order and Shipping Management: Another feature of a multi-vendor online marketplace is order and shipping management. Each vendor can manage orders right from their personalised dashboard. Each vendor also has the capacity to select a suitable shipping agency from a wide variety of shipping options.  
Easy Withdraw System for Vendors: A great multi-vendor marketplace should have an easy withdrawal request option. Such that when a vendor requests funds, the system handles the process without much intervention from the administrator. The administrator can set up a minimum withdrawal limit. Also, the system handles how the merchants are paid.
Personalised Configuration: It should provide vendors with an easy way to configure and set up their stores. Also, vendors can personalise their stores to suit their needs.
---
Dokan Multivendor Marketplace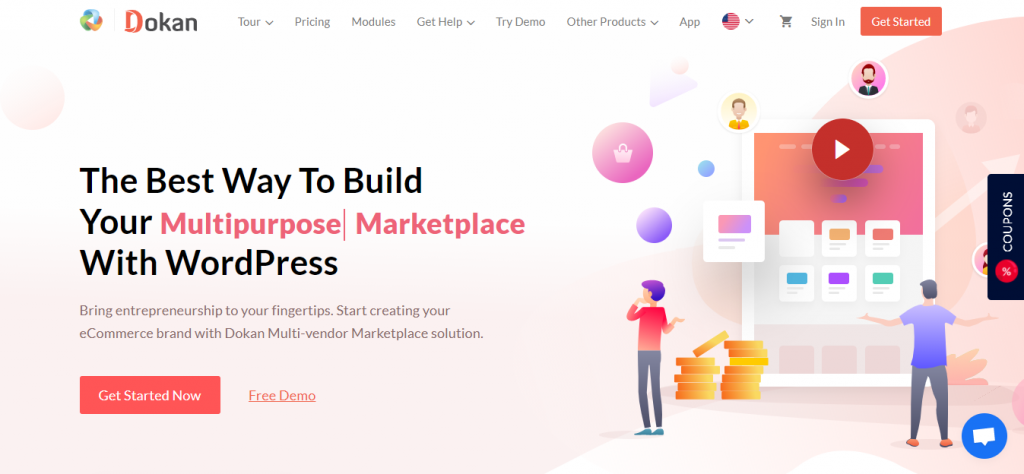 Dokan is a WordPress plugin to build a multi-vendor online marketplace. Having more than 60,000 marketplaces actively using Dokan to power their online marketplace, it is certainly one of the best in the market.
It offers an intuitive and robust functionality that is needed for your multi-vendor eCommerce website to be successful. If localization is important for you, worry not, it is a multilingual marketplace plugin that supports as many as 17 different languages. 
As for the payment gateways, it supports more than 100 of them, meaning you can practically offer every possible solution to your customers.
Overall, it is the most used plugin for building multivendor marketplaces, across all CMS's. 
To get started with Dokan, you can download it from the WordPress plugin repository for free. There are also premium versions of Dokan, that will give you even more advanced features to build a top marketplace.
Why Dokan is the Best WordPress Multi-Vendor Online Marketplace
As we have talked about, Dokan is the most widely used marketplace plugin. This popularity is the result of some awesome features that this plugin offers. Let's get to know some features that made it the most downloaded multivendor marketplace, with more than 9,00,000 downloads on the WordPress repository alone! Some of the top Dokan features are listed below.
Easy to Configure: Dokan is one of the easiest multi-vendor plugins to configure. It does not require coding or technical knowledge of website development. With the installation wizard, you can set it up by a single click.
Works With WooCommerce Themes: Dokan works with most WooCommerce themes which means you can easily integrate it with any WooCommerce theme in the market.
Frontend Dashboard: It offers a comprehensive frontend dashboard for vendors and customers.
Comprehensive Reporting System: Dokan offers a comprehensive reporting system. With advanced insights that allows you to monitor activities on your multivendor online marketplace, you can monitor almost any activities from the number of vendor and customer registrations, to website visits, number of purchases, items sold, payouts etc.
Multiple Product type: Dokan accepts all product types which includes both Digital and Physical Product.

Commissions: It also allows you to easily set up multiple commission methods. You can choose either a percentage or a fixed amount.
Multi-Lingual: Dokan is multilingual and it is available in 17 different languages. This helps a lot in boosting your sales in different regions.
Independent Stores for Vendors: Each vendor has their independent storefront. And they can customize it based on their preference.
Search Feature: It offers a pro search feature that allows you to search for content from both vendors and products.
This is why WooCommerce integrated with Dokan online marketplace is highly recommended when building an online marketplace.
If you are looking for something easy to use and featureful at the same time, Dokan is highly recommended. It is one of the best WordPress multi-vendor online marketplaces.
---
Setting Up A Dokan Marketplace
Setting up Dokan is very easy, as it does not require you to learn to code or having any prior experiences. Dokan is also easy to use. However, as Dokan is a WordPress plugin, that means it can only work on WordPress-powered websites. So first you need to install WordPress.

Install WordPress: WordPress is the most popular CMS. It powers over 37 percent of websites in the world. Follow the below method to install WordPress on your hosting –
Download WordPress.
Unzip the package.
Upload on the File Manager of your hosting.
Install.
For additional help, you can follow this guideline from the official website of WordPress.
Setup / Configure WooCommerce: Once you have installed WordPress on your WordPress site, you need to install WooCommerce on your website. WooCommerce allows you to add eCommerce functionality on your WordPress site. Dokan relies on WooCommerce for building an online marketplace. Here is how to install Woocommerce –
Login to your WordPress Dashboard,
Click on Plugins > Add New
Search for "WooCommerce", Install and Activate the plugin.
Once you install the plugin, set up and customize the plugin to your taste.
Once you set up WooCommerce, you can then set up Dokan.
Once WooCommerce is installed, you can go ahead and install the Dokan plugin.Install Dokan: You can install Dokan like any other WordPress Plugins. The free version is available on WordPress repository. Here is how to install Dokan for free, right from your WordPress dashboard visit the Plugin page.
1. Click on Add New.
2. Search the keyword "Dokan"
3. Install and Activate it.
Once the installation is done, follow the setup wizard. It only takes 5-10 minutes to finish setting up Dokan. After completing the setup process, you can start using it.
---
Wrapping Up
Dokan is the ultimate multivendor marketplace plugin that you can find for building your online marketplace. It offers an awesome array of features that will help you build your marketplace effortlessly.
Download Dokan today, and start building your dream online shop.
Do you want to know how to make a online learning website in WordPress? check our detailed guide on it.